Italian Recipe for Fresh Lala Clams
Jul 15,2022 | VitaminSeafood
How to Prepare Fresh Lala Clams: An Italian Seafood Recipe
Looking for a seafood recipe that is both fresh and delicious? You're in for a real treat with this recipe for fresh Lala clams. This dish is from Italian cuisine, and it is sure to impress your guests. The best part is that it is easy to prepare, so you can easily whip it up in no time.
Before we get started, have you heard of clams in crazy water? Acqua Pazza, Italian for "crazy water", is an Italian cuisine where only the freshest seafood is used, usually white fish is poached in a light herbed broth. This Clam Acqua Pazza Recipe is shared by Singapore's Recipe Creator, "Autumnjanekitchen". Let's watch the following short clip on how she cooked this up.
In the above video, she uses fresh live clams which were delivered by us.
Let's get started on this amazing seafood dish!
Ingredients
1. 20-24 Lala (get the bigger size)
2. 400g red and yellow cherry tomatoes sliced in half
3. 3 whole garlic cloves lightly smashed
4. 1 handful flat leaf parsley leaves
5. 1 fresh red chili pepper chopped
6. 1 tsp salt
7. Pinch saffron threads
8. 5 tbsp extra virgin olive oil
9. 4 cups of water
10. 1 garlic clove thinly sliced
11. 1 shallot thinly sliced
12. Juice of 1 lemon
13. 2 tbsp chopped parsley for garnishing
Steps for Clam Acqua Pazza Recipe
1. Soak Lala in cold salted water for 1 hour to remove sand & grit. Rinse once, and set aside. (VitaminSeafood will carry out this step for you. Save your effort 😁)
2. Set aside 1 cup of the tomatoes. Put the rest in a saucepan with the garlic, parsley leaves, chili, salt, saffron & 2 tbsp olive oil.
3. Add 4 cups of water & bring to a boil. Reduce heat to a slow bubbling simmer & cook for 30 minutes.
4. Strain broth, discard vegetables & set aside.
5. Heat 2 tbsp oil over medium heat in a pan large enough to hold all the clams.
6. Add garlic, shallot and cook until fragrant & sizzling. Toss in the clams, reserved tomatoes, broth & lemon juice.
7. Cover pan & turn up the heat to high & cook until the clams open, about 5 mins. Discard any clams that haven't opened. Taste the broth to see if it needs salt or chili.
8. Ladle into serving bowls, garnish with chopped parsley. Serve with garlic herb bread. Enjoy.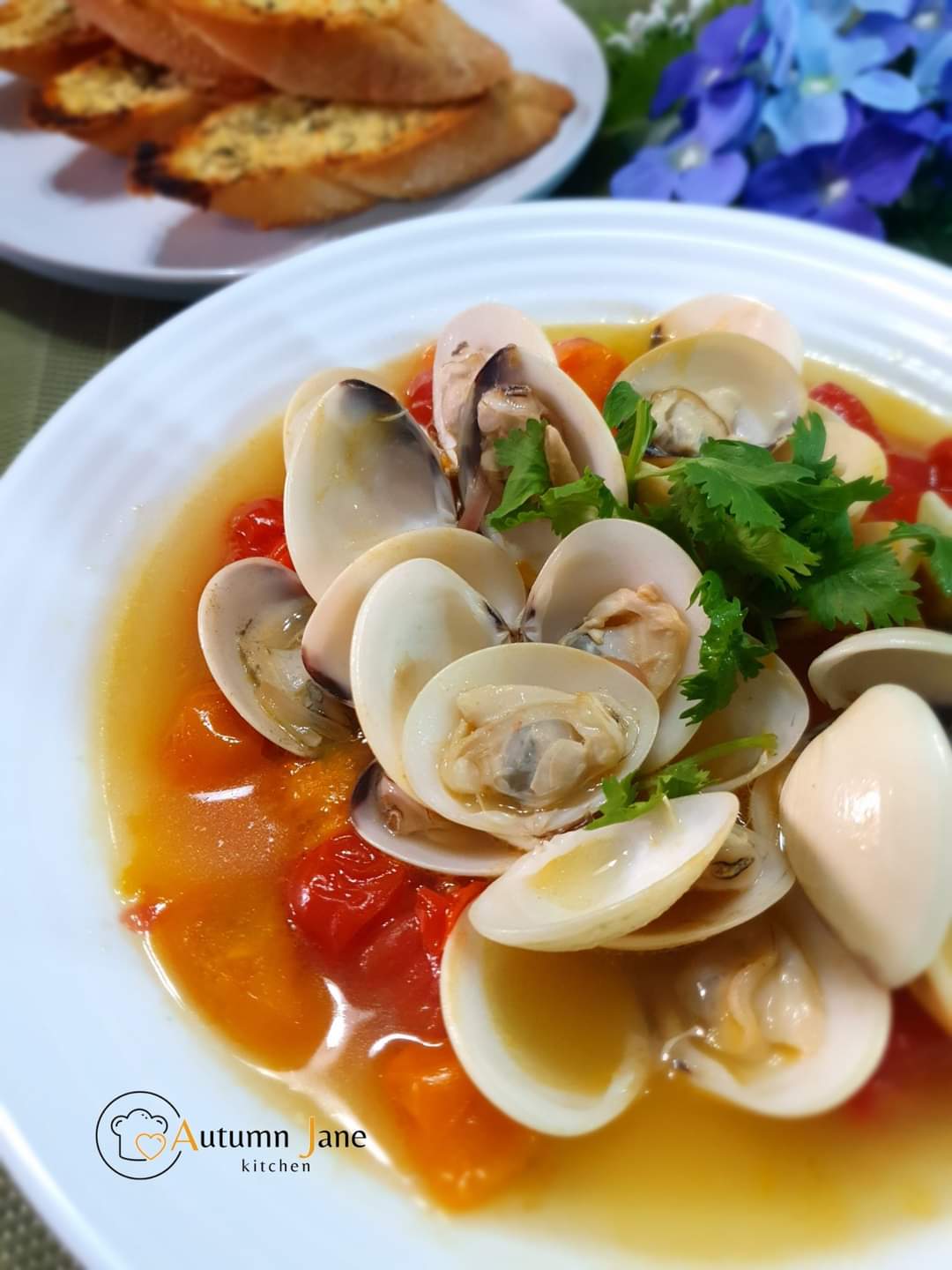 Fresh Lala clams are a delicious and nutritious addition to any meal. We wrote a blog on the health benefits of consuming fresh lala clams. Look no further for an outstanding seafood dish than this one for fresh Lala clams. This dish is from Italian cuisine, and it will undoubtedly wow your guests.
Order fresh Lala clams from VitaminSeafood Singapore today! At VitaminSeafood, we aim to deliver fresh Lala clams to your doorstep in Singapore. Without moving an inch from your home, you get to taste the best quality seafood hand-picked every day by our experts. Not just fresh Lala clams, we have whole fish, fillet, fish steak, and a lot more variety, all available at premium quality, freshly caught from the ocean and delivered to your doorstep in Singapore. We offer free delivery when order meets minimum spend so that you can enjoy fresh seafood at home.
Send in pictures of your home-cooked meals and stand a chance to get featured on our blogs or social media channels. Have seafood recipes to share? Send it in to us via Whatsapp, Facebook, Instagram or email!
Comment