Can Eating Fish Really Help You Live Longer?
Jun 30,2022 | VitaminSeafood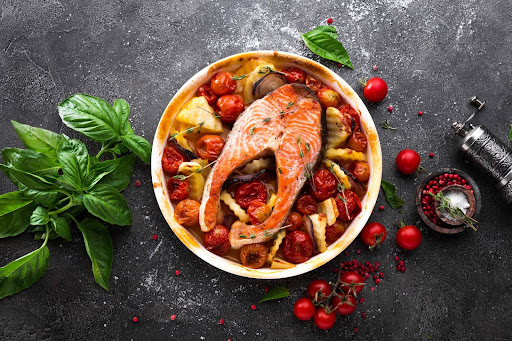 Eating better can help you feel better. Fish have always been known to be one of the healthiest foods you can consume. But what if eating fish could even help you live longer? There's nothing fishy here! Read on to know more about the health benefits of fish and how exactly it may increase your life expectancy:
The Health Benefits of Fish
Research has shown that eating fish has significant health benefits, with improvements seen in many health conditions. Consuming fish also has protective health benefits in those with cardiovascular disease, helping to lower blood pressure and reduce the risk of heart attacks and stroke. Fish is a great source of protein that is low in saturated fat and cholesterol. White fish, like red grouper, especially has less fat than any other protein from a meat or seafood source. Oily fish, like salmon, are high in omega-3 fatty acids, which are known to be healthy fats that are good for us.
Fish are also rich in minerals and a great source of vitamins D and B2, and minerals such as iron, zinc, magnesium, potassium and iodine. All these essential nutrients keep our brain healthy and functioning well. While fish are a great addition to our diets for the health benefits, we should eat them in moderation. Singapore's Health Promotion Board recommends having two or more servings of fish per week, with one serving equalling 90g of cooked fish.
There are dozens of varieties of fish and a multitude of ways to cook and flavour them. This means even the pickiest of eaters can experiment with and discover fishes and cooking styles best suited to their tastes. Our cooking choices can impact nutritional quality, like the fat content of a finished dish. Keep fish dishes healthy by choosing cooking methods like steaming, grilling, baking, poaching and pan-frying. Adding fish dishes to an all-rounded, moderate diet focused on a variety of fresh, nutritious foods is a great way to enjoy the optimal health benefits.
Eating Fish for Longevity
Did you know that in some parts of the world a fish and seafood inclusive diet have been linked to increased longevity? Studies have shown that in countries like Japan where fish consumption is a staple, the heart-protective benefits of fish play a part in lowering heart and stroke related health conditions. This can actually lead to longer life spans. In a first-of-its-kind study, Japanese men living in Japan had twice the blood levels of omega-3 fatty acids and significantly less cholesterol build-up in their arteries compared to Caucasian and Japanese men living in the United States. Japan is also one of the countries consistently known to have the highest average life expectancy, alongside countries like San Marino where the Mediterranean diet is abundant in fish and seafood, and is known to have many health benefits as well.
These regions focus on consuming fresh, good quality fish and seafood — often caught and consumed within the same day or even just right before cooking! They make up a part of healthy, well-balanced diets and contain many nutrients that are known to reduce health risks and increase longevity.
Focus on High-Quality, Fresh Fish
Processing or long term storage of fish may reduce its quality of nutrients, so the best thing you can do is to eat fresh and good quality fish to fully reap the health benefits. VitaminSeafood specialises in fresh fish, not frozen or frozen-thawed. Our fish supply is still swimming in the sea or on the way to Singapore, and we only get what you require after your order comes in! We are committed to freshness and quality, to give our customers peace of mind and wonderful health benefits.
If you're wondering where to buy fresh fish in Singapore, we have what you need — whether it's whole fish, fish fillets, fish steaks or other cuts and fish products. You can conveniently order online and have your fish and seafood delivered right to your doorstep without compromising on freshness and quality. Catch us on Whatsapp, Telegram or Facebook for more enquiries!
Comment